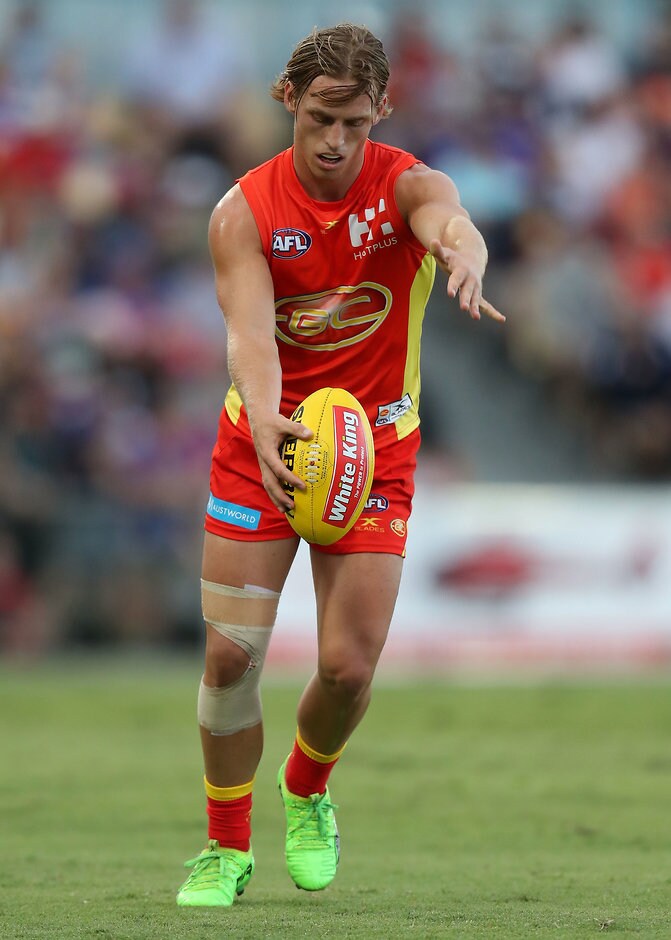 The Sydney Swans are into their second consecutive NEAFL Grand Final after a 68-point Preliminary Final victory over the Gold Coast SUNS at Blacktown International Sportspark.
The minor premiers controlled the match from the outset, leading by 28 points at quarter-time and 78 at half-time, with the Queenslanders bringing the margin back in the final quarter, 21.16 (142) to 11.8 (74).
Despite plenty of forward 50 resistance from Gold Coast, the Bloods had little trouble playing themselves into the match, kicking five of the contest's first six majors, as their pressure began to break the SUNS down.
NEAFL Team of the Year forward Darcy Macpherson pegged one back for the away side, but it was the red-and-white in full control of the match at quarter-time, leading by five goals.
Sydney hit ominous form early in the second quarter, with Jordan Dawson slotting a set shot from up against the fence, stretching their lead to 40.
Further concern was added as the Swans kicked another goal, with young SUN Bailey Scott being helped off the ground after taking a hard knock to his arm.
A man down was the last thing Gold Coast needed, as Talia finished off another slingshot score, extending the lead past 50.
Perhaps it was just going to be one of those days for Gold Coast – they had goals touched on the line twice during the quarter.
However, you could not shortchange the brilliance of the Bloods – Shaun Edwards and James Rose stood out amongst a strong bunch, with three first half goals apiece.
Macpherson continued to show his quality when given the opportunity, slotting a nice goal from the boundary line to start the third, but too few of his teammates could do much at all to help the cause.
The fourth quarter saw impressive young SUN Caleb Graham become the second multiple goal kicker for his side, one of few on the away team who stood out.
To Gold Coast's credit, they showed admirable resistance in the final quarter, not content with ending their year in disgrace despite the game being well beyond them.
At the final siren, the margin was 68 points, the scoreline reflecting a commendable fightback from the SUNS in the last quarter.
Dan Robinson (28 disposals, seven clearances) and Harry Cunningham (24 disposals, seven clearances, two goals) were a class above in the midfield, and Sam Naismith was also among Sydney's best players with 40 hit-outs and six inside 50s.
Michael Rischitelli (20 disposals, five clearances) battled hard in the clinches for the SUNS alongside Mitch Hallahan (27 disposals, nine inside 50s), while academy members Timakoi Bowie, Brodie Foster and Jacob Heron showed glimpses of their potential.
Next week, Sydney attempt to win their first premiership from four starts, having lost in the decider in 2013, '14 and '16.
PRELIMINARY FINAL 1
Sydney Swans v Gold Coast Suns at Blacktown International Sportspark
SYDNEY 6.5 14.9 20.14 21.16 (142)
GOLD COAST 2.1 2.3 5.6 11.8 (74)
GOALS
Sydney: J Rose 4, S Edwards 4, O Florent 2, S Fisher 2, J Dawson 2, H Cunningham 2, S Wicks, B Ronke, D Robinson, T Pink, M Talia
Gold Coast: B Crossley 3, T Bowie 2, D Macpherson 2, C Graham 2, B Scheer, J Bowes

BEST
Sydney: D Robinson, H Cunningham, H Marsh, S Naismith, J Rose, S Fisher
Gold Coast: M Rischitelli, T Bowie, M Hallahan, B Foster, J Heron