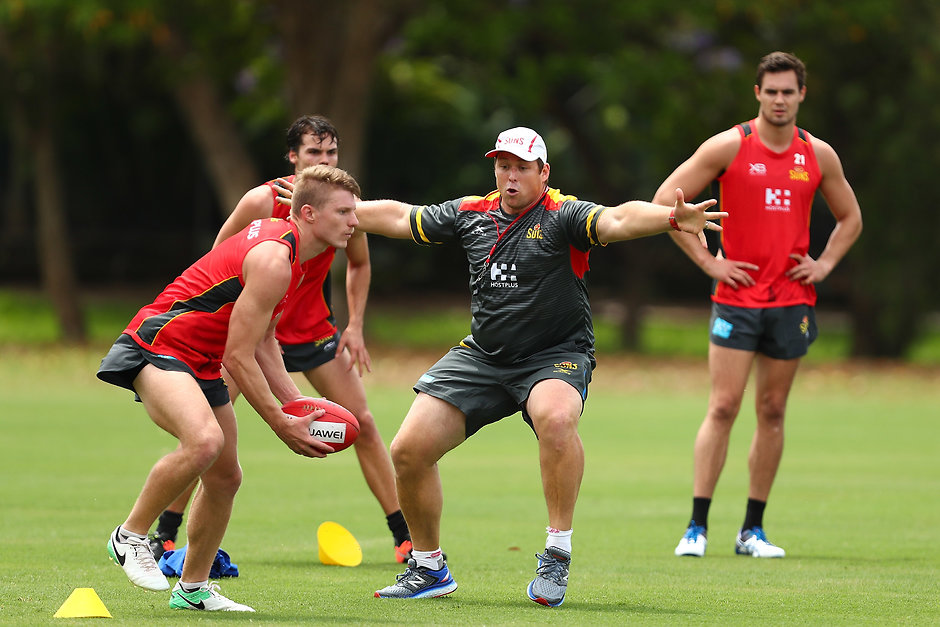 I think we can improve on both sides of the ball and that's the main change, obviously it's a real turnover game at this point.
Senior Coach, Stuart Dew
While Australia's Commonwealth Games athletes are chasing their goals, Gold Coast SUNS coach Stuart Dew will be looking to achieve a few of his own he set back in October last year.
When first appointed senior coach, Dew outlined his desire to establish and foster a high-performance culture to unite his playing group and chase success in 2018.
Set to play their first nine games of the AFL season away from Metricon Stadium, it will be a perfect chance for the new coach to forge his new-era culture.
Speaking on 3AW on Thursday afternoon, Dew said playing away games back-to-back brings out a different side in people and is a great chance to establish a positive team comradery.
"I'm really looking forward to that time, it's a big challenge but every week is a big challenge," Dew said.
"It's such an even comp so whether we're at home or away it doesn't mean much to me.
"I'm looking forward to just worrying about our group and just trying to maximise how good we can be."
Dew has been in the senior coach role for four months now, and has put a big focus on building relationships with his players and performance staff in that time.
"I'm still in that process of understanding who they are as individuals and as a side but I'm really enjoying that time getting to know them," Dew said.
"What I have found is that they're quite compliant and really eager to be a good, successful AFL side.
"In one part I really want to get going straight away but on the second part I feel like we've got a lot to work on and a lot to improve on so we're using all the time we've got."
As part of his assessment of the group, Dew has started to get an inkling of what his players are capable of in different situations, which has helped him formulate his overall game plan.
That assessment also included identifying points of weakness and addressing them in training scenarios.
"I'm certainly keen on the overall game style and getting that gel between the lines – the forwards, mids and backs – and getting those guys working together as efficiently as possible," Dew said.
"I think we can improve on both sides of the ball and that's the main change, obviously it's a real turnover game at this point."
Dew's first challenge as a coach will be AFLX on February 17 in Sydney before he turns his attention to the JLT Community Series where the SUNS will play games in Townsville and at Southport Sharks.