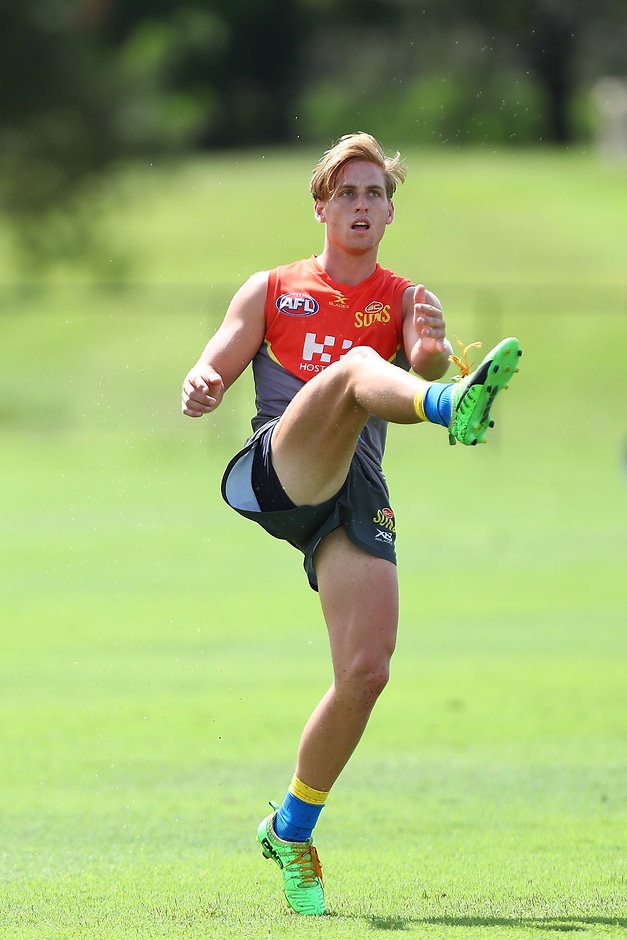 GOLD Coast's small forwards are so competitive at pressuring opposition defenders, they're willing to wager on it.
Not money, but caffeine.
You had better not be the small forward that makes the least tackles in a game, or you'll be shouting your mates coffee the following week.
In Sunday's JLT Community Series win over Geelong, the Suns' forward pressure was one of their most noticeable improvements from 2017.
Nick Holman (eight tackles), Darcy Macpherson (four) and Sean Lemmens (three) were terriers and ensured any Cats disposals in their defensive 50 were under pressure.
Macpherson, 20, told AFL.com.au it had been a focus all pre-season under new coach Stuart Dew.
"It's good to play around boys doing it, they lift you, they lift the team," Macpherson said.
"It's great to have a bunch of blokes around you harassing and playing as one.
"We're a little family in the forward line, checking in all the time, having a joke and seeing who gets the most tackles.
"We see who makes the most tackles and the loser has to shout coffee, so we have some fun with it."
Although Lemmens hurt his hamstring in the final minutes of Sunday's win, the blueprint is there for whoever plays in the front half of the ground.
Macpherson has played 12 games in his two seasons with the Suns and says Dew's appointment has given him a new lease of life.
He said the coach had given him the "freedom" to play to his strengths.
"It's boosted my confidence," Macpherson said.
"Go out, play my game without worrying about making too many mistakes.
"Stuey is a lot about positive reinforcement, he'll say: "on to the next one" and just boost your confidence and lets you keep attacking your game.
"He really values that defensive pressure that turns into goals, a bit similar to (Dew's former club) Sydney."