A month out from the start of the 2018 Academy Series the Gold Coast SUNS team are laying the necessary foundations in place for a strong campaign.
On Saturday they hosted Victorian school Penleigh and Essendon Grammar in their first of three trial matches over the coming weeks.
In conditions more aligned to what would be expected in Melbourne, the Gold Coast team ran away with a convincing 16.6 to 5.3 win, with the visitors never really challenging.
Academy member and draft hopeful Bailey Scott said it was always that little bit sweeter to secure a win over a Victorian based side.
"It's our second game together which has helped us a little but with the chemistry and getting to know what players do with the footy and without the footy," he told SUNS TV.

"In the second quarter our team adjusted quicker [to the wet weather] which allowed us to get more of the footy compared to the Vic team."
In amongst family and friends battling the weather in support of the team were a couple of familiar faces in SUNS CEO Mark Evans and senior player Jesse Joyce.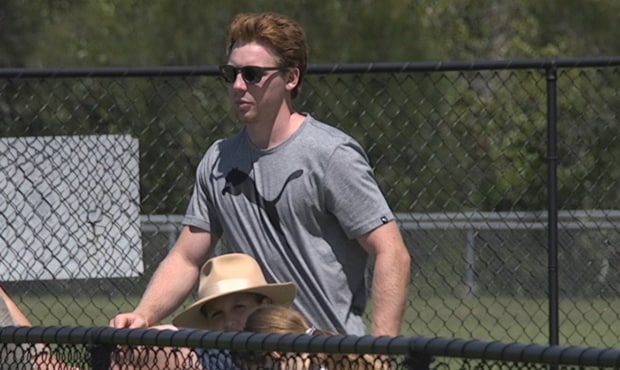 SUNS Senior Player Jesse Joyce watches the Academy match on Saturday.


Scott said such encouragement, even in a trial match, was aligned with the overall support the club provides the Academy.
"It's awesome- some of the things the SUNS do for the Academy," he said.
"Reaching out and becoming role models and showing the professionalism for the SUNS Academy is awesome.
"It's a great opportunity to play in front of people like that [Evans & Joyce] and also mix with people like that."
One such opportunity provided to top-level Academy members is the chance to train alongside the AFL squad, which Scott has done throughout the pre-season.
"I've trained with the AFL – learning from the best and learning what the life of an AFL player is," he said.
"It's given me a drive to want to make it at the end of the year and a sense of what it will be like if I can make it."