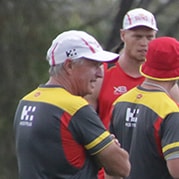 Taking on a senior coaching position can be tough at the best of times, but for Stuart Dew, being the youngest coach in the AFL has its own challenges.
5:05pm Jan 18, 2018

If his left hand was still causing him any discomfort, Pearce Hanley certainly didn't let it show at training on Monday morning.
5:42pm Jan 15, 2018

The Gold Coast SUNS will be hosting their first open training session of 2018 at the Pirate Park, Palm Beach Parklands.
5:00pm Jan 15, 2018