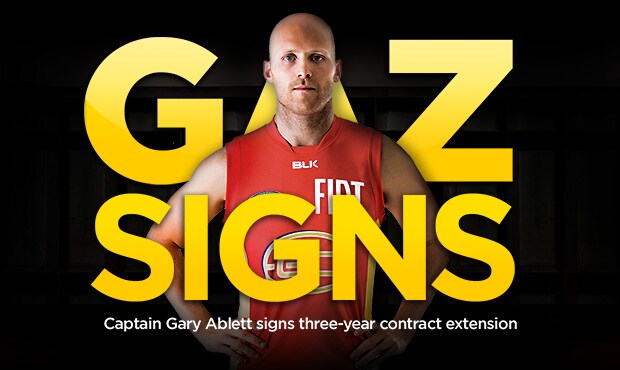 I'm rapt to have re-committed to the Gold Coast.
GC SUNS captain, Gary Ablett
The Gold Coast SUNS are thrilled to confirm Gary Ablett has signed a three-year contract extension.
The deal will see Ablett continue with the SUNS until at least the end of the 2018 season.
"I'm rapt to have re-committed to the Gold Coast. For some time, I had indicated to the club and my management that I wanted to extend my contract with the SUNS," Ablett said.
"When I joined the Gold Coast SUNS, I was aware it would be a responsibility and privilege to play a role in forming a new club, in an expansion market for our great game. But I never anticipated the ride to be so fulfilling.
"The Gold Coast SUNS are a fantastic club, made up of great people who have all made such a significant contribution to both the AFL and the Gold Coast community.
"I am proud of what we have achieved so far off the field, and I know that with hard work, we are capable of achieving so much more on-field in the future, and that's why I have re-committed to the SUNS.
"We still have plenty of work ahead of us, but I strongly believe that we have the right people in place to take our club forward."
GC SUNS CEO, Andrew Travis, said Ablett's re-signing was a significant milestone for the SUNS and the growth of AFL in Queensland.
"Gary's commitment is terrific news for everyone involved with the club. To confirm the Gold Coast has secured one of the competition's most recognisable and best players for a further three seasons sends a strong message that we are all committed to achieving success at the Gold Coast SUNS," Travis said.
"Today's announcement caps off a significant month for our club off the field. In the last 30 days, we have announced new partnerships with United Petroleum and Huawei signing on as coach and ball partner respectively, while we also secured funding of $15 million from the federal government for a permanent training and administration base in the Metricon Stadium precinct."
Travis believes Ablett's decision shows the faith the playing group has in the club's future.
"We were always confident of retaining Gary. He and his manager, Liam Pickering, gave us that indication all the way through and that allowed us to complete the deal in a professional manner.
"What shouldn't be overlooked is that Gary's new deal is a huge vote of confidence in our program, our coaches, his teammates and the direction of the club," Travis said.