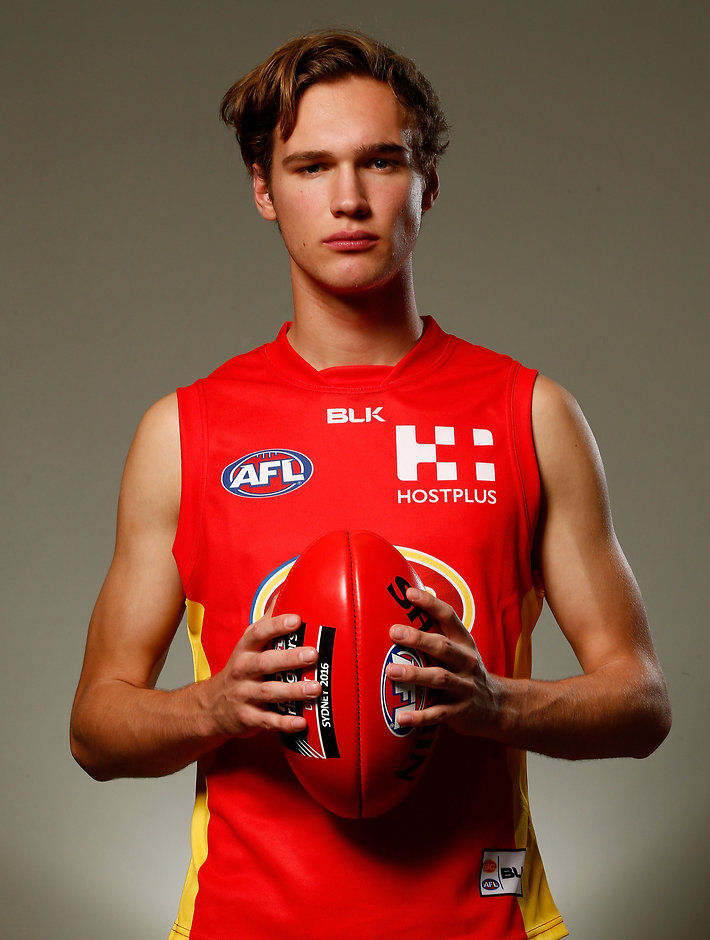 I've been to the Gold Coast a few years ago and I absolutely loved it so no issue with me going over there.
GC SUNS draftee, Jack Scrimshaw
The phrase "upside" is thrown around a lot when describing footballers, but it's a tag more than appropriate for Jack Scrimshaw as he enters the AFL system after being selected at pick No. 7 by the Gold Coast SUNS.

Whilst Scrimshaw has made a name for himself as a mobile rebounding defender, the Sandringham Dragons product openly states a desire to shift into the midfield and standing at 193cm, he could be a genuine star in the making.

Scrimshaw has drawn comparisons to four-time premiership Hawk Grant Birchall for the way he patrols the defensive 50, but could become the epitome of a prototype midfielder in the mould of the Western Bulldogs' Marcus Bontempelli (192cm/93kg).

"I think I'm just a rebounding defender and a tall, versatile sort of player," Scrimshaw told SUNS TV during Friday's night National Draft.

"I think I read the play quite well off the half back line but I see myself as a midfielder going forward and hopefully as I build up the tank and the body hopefully I'll be able to do that.

"He's (Bontempelli) is one (I base my game on) and Grant Birchall is another. They're great players so I'll have to work pretty hard to compare with those guys."
READ: AFL.com.au's Draft Verdict

Scrimshaw is hopeful of a round one berth next season but will need to add muscle to his 80-kilogram frame over the summer months.

"If I have a big pre-season in the gym and build up my aerobic capacity then the sky's the limit," he said.

"I'm just looking forward to working hard and getting the respect from the teammates."

Four players Scrimshaw has already earned the respect of are his fellow 2016 draftees in Ben Ainsworth, Will Brodie, Jack Bowes and Brad Scheer.
READ: Good mates will help Ainsworth's transition
The five have been members of the NAB AFL Academy since 2014 and share a strong bond as they unite again for the Gold Coast SUNS.

"The academy makes us all tighter. It's a great program the AFL put on," Scrimshaw said.

"Bowesy in particular I've been really close with him over the journey as with Ben and Will so I'm just absolutely excited to jump on board with those boys."
As for life on the Gold Coast, Bowes has already done a great job of selling 'Scrimma' the lifestyle in Southeast Queensland.

"Bowesy said it's unreal. I've been to the Gold Coast a few years ago and I absolutely loved it so no issue with me going over there," he said.

"My family and I were easily persuaded into going and I'm just happy. Really happy."

Pick 7
Jack Scrimshaw
Height: 193cm
Weight: 80kg
Junior Club: Sandringham Dragons