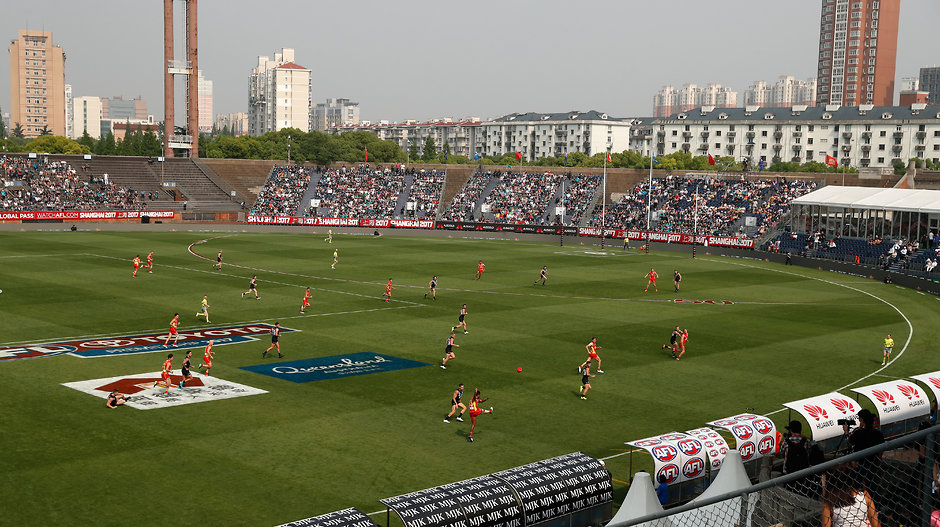 Tickets to the Round 9 2018 Toyota AFL Premiership Season match between the Gold Coast SUNS and Port Adelaide Football Club are now on sale.
The match will be held at Adelaide Arena at Jiangwan Stadium, Shanghai on Saturday May 19 at 1.15pm (venue local time).

How to purchase tickets
To purchase, visit the dedicated Shanghai 2018 ticketing website here.
If you purchased tickets for Shanghai match in 2017 through the ticketing website, you will have an existing account.
Should you be prompted for an ID number, please enter your Member ID.

Please note that tickets will not be available over the phone or in retail outlets. There is a maximum of eight (8) tickets per transaction.
The only accepted forms of payment for the website are Visa, Mastercard, Unionpay and Alipay.

Should the initial allocation of tickets become exhausted, there may be a final release of tickets on Thursday 12 April (subject to availability from unused club and AFL requirements).

Ticket and Hospitality Options
Ticket and hospitality options, including a stadium map, can be found at shanghai2018.com.au.

Please note that individual seat selection is not available for this match.

Ticket Collection
All tickets will be required to be collected in Shanghai. Collection locations and times will be confirmed via email closer to the game.
You will be able to access an electronic ticket voucher in your account closer to the game. You MUST produce this voucher along with photo ID of the purchaser in order to collect your match ticket(s) in Shanghai.
For any further questions, please contact our Membership Team on 1300 784 436 or gcmembership@goldcoastfc.com.au.