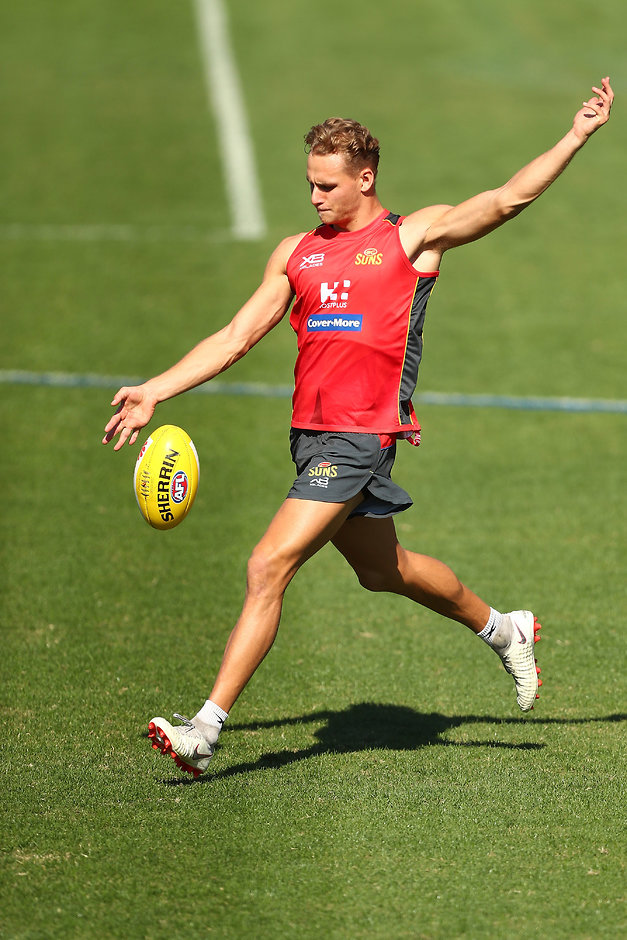 Pearce Hanley and Will Brodie will be unavailable to pull on the red & gold for the rest of the season, after both went down with hamstring injuries in the Round 22 loss to Richmond.
Brodie was ruled out of the remainder of the match against the Tigers before half-time, while Hanley was iced up at three-quarter time and did not return for the final quarter.
Gold Coast's GM – Football Operations, Jon Haines, told the Alpha Sport Injury Update it was a disappointing outcome for both players.
"With the hamstring taking place on the weekend it looks like Pearce will miss three to four weeks with that particular injury so that will be his season," Haines said.
"Will's had a really strong run of consecutive games and proven himself that he's a really emerging inside midfielder with real strong AFL qualities.
"It's disappointing for Will, it's a similar sort of timeframe to Pearce, three to four weeks with the hamstring so he'll start his rehabilitation and get ready for the pre-season program."
Jesse Lonergan wasn't named in the side after succumbing to knee issues throughout last week and Haines said the club were taking a conservative approach with the midfielder.
"Jesse Lonergan's still got a bit of a grumbly knee so we're going to get another external look at that from another specialist and get them to provide a second view," Haines said.
"No pressure on Jesse to return to play at this time of year so we'll make sure we put his long-term interests at the forefront of our thinking.
"We've communicated that to Jesse and he'll prepare himself for the upcoming pre-season as well."
In better news, Rory Thompson will be a test for this week's QClash after missing the last two weeks with injury.
"Rory Thompson is tracking well from his hamstring injury," Haines said.
"He's missed a couple of weeks with that particular injury but subject to him getting through this week's training and progressing as he is at the moment, he'll be available for selection."
Sean Lemmens was also withdrawn from the team last week after encountering problems with his wrist.
"He's got a slight issue with the right scaphoid in the wrist that he broke a little while ago," Haines said.
"There's no break or fracture there, just some soreness so we're taking a really conservative approach with that and he'll be a test during the week as a view to whether he can play this weekend."