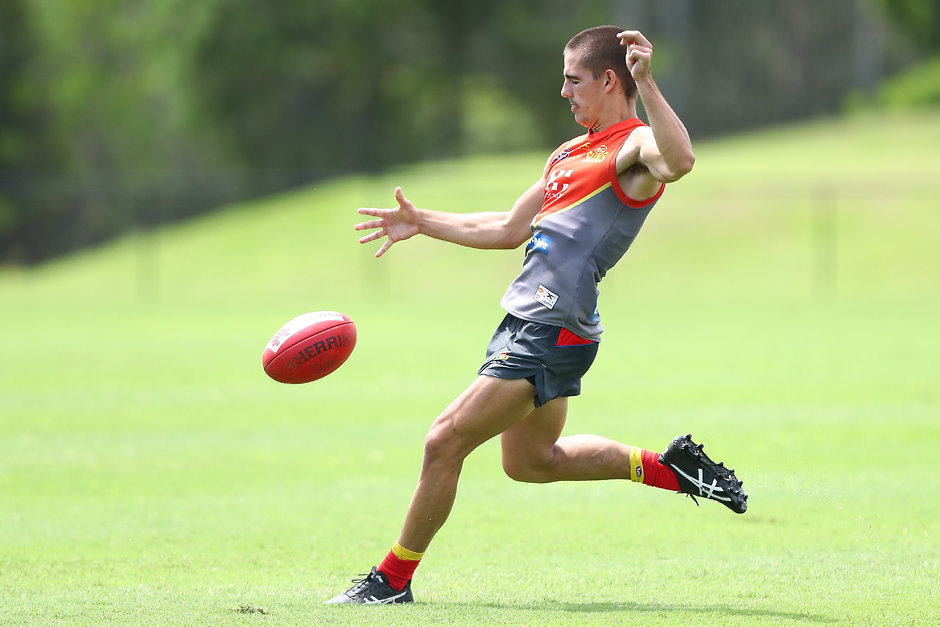 NEAFL ROUND 20
Saturday, August 18, 2018
Gold Coast SUNS (8th) v Brisbane Lions (6th) at Metricon Stadium, 3.45 pm
*Click here to watch the live stream on NEAFL TV.
*Live Champion Data statistics available on the Official NEAFL App
SUMMARY
The battle for sixth place is now effectively two-horse race between the Lions and the GIANTS after Gold Coast lost by 70 points to the GIANTS last week. Gold Coast can still technically make the six, although it is a tough challenge. The only way it could happen is if the GIANTS lose this week and draw to the Lions again, next week and the SUNS win their last two matches by enough to improve their percentage by 50 per cent.
Brisbane, on the other hand, after a rocky middle of the year, are looking very dangerous. The Lions, who have been playing "finals" for the last month, have demonstrated to the log-jam above them on the NEAFL Ladder that they cannot be forgotten. Brisbane has won three ofits their last four games, but they must continue to win if they want to make the finals series with the GIANTS breathing down their necks.
RECENT ENCOUNTERS
Round 17, 2018: Brisbane 11.16 (82) d Gold Coast 10.10 (70) at Metricon Stadium
Round 6, 2018: Brisbane 12.24 (96) d Gold Coast 0.4 (4) at Moreton Bay Sports Complex
Round 3, 2018: Brisbane 12.11 (83) d Gold Coast 5.6 (36) at Southpine Sports Complex
TALKING POINTS
1. This weekend will be the final NEAFL QClash of the year. If the Lions win, it will be the second time that the SUNS have not been able to beat the Lions in a season. The last time they were unable to overcome the Lions in a season was 2014, when the Lions won all four games.
2. When these sides met three weeks ago, the SUNS had 111 more possessions than the Lions, however, lost the match by 12 points. Brisbane had 23 more kicks than Gold Coast, but the SUNS, amazingly, had 134 more handballs.
3. The Gold Coast's no-fuss midfielder Jacob Dawson has had a fantastic year but will need to play a big game this weekend if they are to win. In his first year on the SUNS list, the academy product has played three AFL games and has dominated when in the NEAFL. Averaging 29 disposals, Dawson has played 13 games in the NEAFL and has been named in the SUNS' best 10 times.
TEAM
| | | | |
| --- | --- | --- | --- |
| B: | 52. Ryan Gilmore | 59. Ashton Crossley | 49. Brodie Foster |
| HB: | 57. Kwaby Boakye | 51. Bailey Scott | 45. Jacob Dawson |
| C: | 53. Kane Haua | 2. Jack Scrimshaw | 31. Connor Budarick |
| HF: | 44. Darcy Macpherson | 36. Joshua Schoenfeld | 54. Tui Lowah |
| F: | 60. Jackson Brumley | 34. Cooper Portelli | 46. Fitzroy Greenwool |
| FOLL: | 58. Caleb Graham | 50. Emmanuel Baru | 43. Max Spencer |
| INT: | 26. Joshua Gore | 47. Timakoi Bowie | 48. Lachlan McDonald |
| | 48. Lachlan McDonald | 56. Hewago Paul Oea | |
| EMG: | Cory Beaman | Ari Miles | Mathew Conroy |
In: 56. Hewago Paul Oea 44. Darcy Macpherson 31. Connor Budarick 26. Joshua Gore 59. Ashton Crossley 2. Jack Scrimshaw
Out: 55. Dirk Koenen (injured) 40. Jacob Heron (AFL) 18. Bradley Scheer (AFL) 56. Dean Katsiris (omitted) 26. Ari Miles (omitted) 42. Cory Beaman (omitted)
New: 59. Ashton Crossley