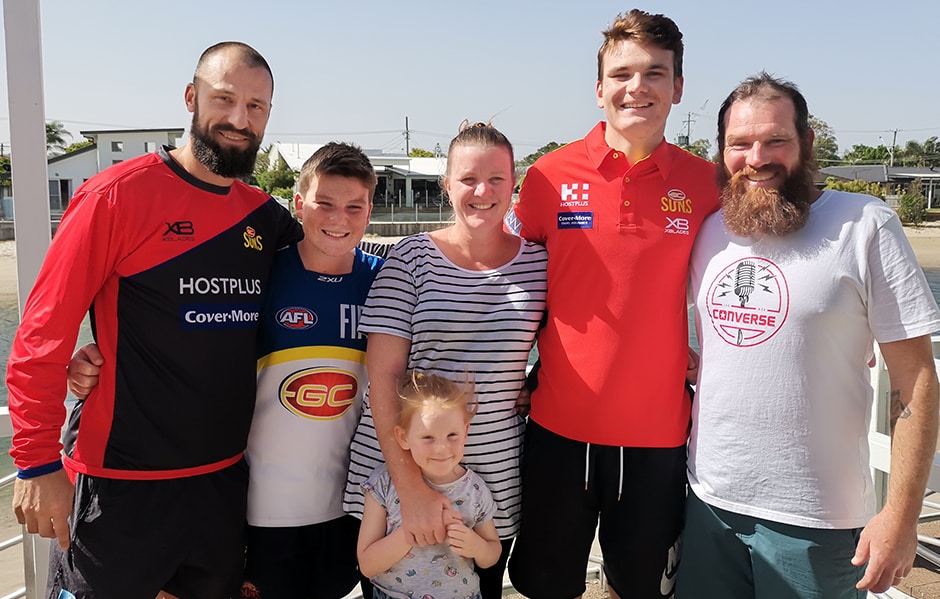 Caleb Graham is the latest Gold Coast SUNS Academy graduate after being announced as the club's last pick in the 2018 NAB AFL National Draft.
Originally hailing from Cairns, Graham relocated to the Gold Coast to focus on his football – and it's paid off.
"It's pretty amazing – I've been hoping for this since I was little obviously, so it's been a lifelong dream," Graham told goldcoastfc.com.au
"It was a bit surreal at the time (But I'm) definitely looking forward to it."
Graham was taken with pick 71, but he was made to wait a while with 48 picks passing since the SUNS' previous selection at 23.

WATCH: Graham Highlights

"The nerves started kicking in at about number 65, I spoke to my manager beforehand and then number 70 come up, (I) saw a few clubs had passed beforehand," Graham said.
"My name was read out and I couldn't move for a second, (I was a) bit shocked sitting there.
"(There were) definitely nerves but now I'm feeling pretty good."
Graham was joined on his couch by some of his close friends from Cairns, as well as his mum, dad, little sister and little brother.
He said it was a great moment to be with them as his name was read out on national television.
"I've had a lot of support with my family over the past few year moving down with me," Graham said.
"(I'm) very happy they could be here."
Graham has a leg up on some of his fellow draftees.
He has already formed strong relationships and is well-known amongst the playing group, having played in the NEAFL team last season as well as training with the squad throughout the year.
"I got to do a preseason with them at the start of this year, did NEAFL footy with them for the past two years so I know a few of the boys," Graham said.
"It'll be a smoother transition, it'll still be challenging which I'm looking forward to but I know a few of the boys, and have played with a few of the boys so won't be a complete stranger to the club."