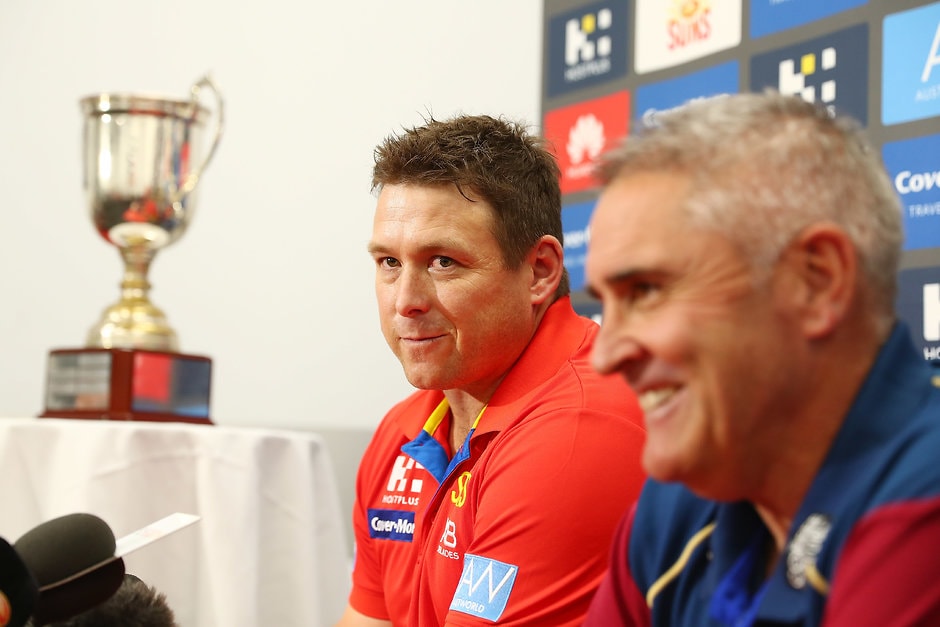 Obviously we're in the same state and the clubs are rivals, but from a personal point of view there are just some little things that he's [Fagan] done with his players in his first year that he talked to me about – things that make you think about little opportunities.
SUNS Senior Coach Stuart Dew on Brisbane Lions coach Chris Fagan
While the relationship between the SUNS and Brisbane Lions might have soured in recent years, a bond based on a strong mutual respect between the two coaches has endured.
Stuart Dew and Chris Fagan first met while both were at Hawthorn in 2008, where Dew was a player and Fagan was employed as the club's head of coaching and development.
Over the past three years, both have moved to Queensland as senior coaches, facing similar issues at Gold Coast and Brisbane respectively; massive list turnover, inheriting young and inexperienced squads and the task of rebuilding a club virtually from the ground up.
Fagan, in charge of the Lions, is starting to see the fruits of his labour. Dew, who arrived later at the Suns, is hoping the 2019 campaign marks the start of a similar turnaround.
But while the upcoming season will be a 'Year Zero' of sorts for Dew and his peers at Metricon Stadium, meetings with Fagan have ensured he knows exactly what's in store.
"He's been really good to me," Dew told AFL.com.au in an exclusive interview.
"Obviously we're in the same state and the clubs are rivals, but from a personal point of view there are just some little things that he's done with his players in his first year that he talked to me about – things that make you think about little opportunities.
"Whether it's freshening up the players or otherwise. But also, it's about the times when the scoreboard is not going your way and how you keep that belief.
"You have to keep reinforcing that what they're doing is going to pay off in the long run."
Those lessons will prove invaluable to Dew as he starts 2019 with a clean slate.
The club brought in a host of fresh faces over the off-season, including 13 new players and 11 new staff members, with the view being that the new personnel would bring an improved culture.
Anthony Miles and Corey Ellis came from a successful Richmond side, while George Horlin-Smith and Jordan Murdoch arrive from a Geelong team used to winning regularly.
But new faces won't automatically equal a better culture, something Dew is trying to drive.
"Culture is a funny one," he said.
"You can't really just get some new guys in and tick the box. It's every day and we're always working at it. Some days we get it right and other days, you drift or you drop off five or 10 per cent. Then it's how quickly you can catch yourself. That's everyone in the footy club.
"That's what we're really working hard on every day, making sure there's high effort but also high accountability and a lot of honesty."
Externally, predictions for Gold Coast's upcoming season have been grim.
The club lost a host of key senior players during last year's NAB AFL Trade Period, including both captains Tom Lynch and Steven May, and again regenerated an already young list.
But while concerns still linger about the sheer amount of star talent that has come and gone, Dew believes the fresh approach will ensure there's no looking back.
"All we have gone about is changing the here and now and moving forward," he said.
"Even when people are starting to predict what our year looks like, I think it's really different. I can't predict what other teams are going to do. Unless you're in there and you feel it and see it, I think it's really hard to do.
"I've heard people say we're not going to win a game. People can have that opinion, but we're really confident that's not the case."
But if you think the forecasts of a no-win season will be used as motivation this year, think again.
"Our motivation is about challenging our players to be their best," Dew said.
"That stuff probably lasts a couple of minutes. Guys get a bit angry about it, but generally I think we're working hard on what we can actually contribute to changing the perception."
With a host of key players departing Metricon Stadium, a number of established and mature-aged footballers are hoping to replace them throughout the upcoming season.
Miles, Ellis, Horlin-Smith and Murdoch were joined by Jack Hombsch at the Suns, while the club was also allowed access to three state league players via an AFL assistance package.
It secured former Fremantle defender Sam Collins and forward Josh Corbett from VFL club Werribee, while it plucked swingman Chris Burgess from SANFL side West Adelaide.
That crop of eight ready-made recruits is a sign that things are changing at Gold Coast.
"We had a lot of people want to come to the footy club both on and off the field," Dew said.
"I think that's a great sign for us, particularly the guys who have come from other clubs. They're quite excited about living here and having an opportunity at the footy club.
"Within the footy club, everyone feels that. Externally they're sitting there waiting to see how it translates to on-field success."
That on-field success won't just be inspired by the experienced players who have arrived.
Jack Lukosius, Izak Rankine and Ben King are all top-six selections from last year's NAB AFL Draft – and they're not the only skilled youngsters set to earn their chance this season.
Wil Powell, Ben Ainsworth, Will Brodie, Jack Bowes, Callum Ah Chee and Brayden Fiorini make up a handful of other first-round draft picks still on the club's list, with their continued improvement the driving force behind what Dew believes will lead to a better season.
But what constitutes a better season? According to the Suns coach, it's not necessarily the number of wins, but the next column across on the ladder.
"We had four wins last year, so we'd love to win more games than that," Dew said.
"Everyone will sit there and say we want to win more games, whether you're Sydney or Collingwood or Hawthorn. But I think the main one will be lifting our percentage.
"We copped some big losses last year, but then also when we played some good quarters we didn't quite cash in on that. Our consistency of effort will be really visible.
"How to put a figure on that is hard, but the scoreboard doesn't really lie."