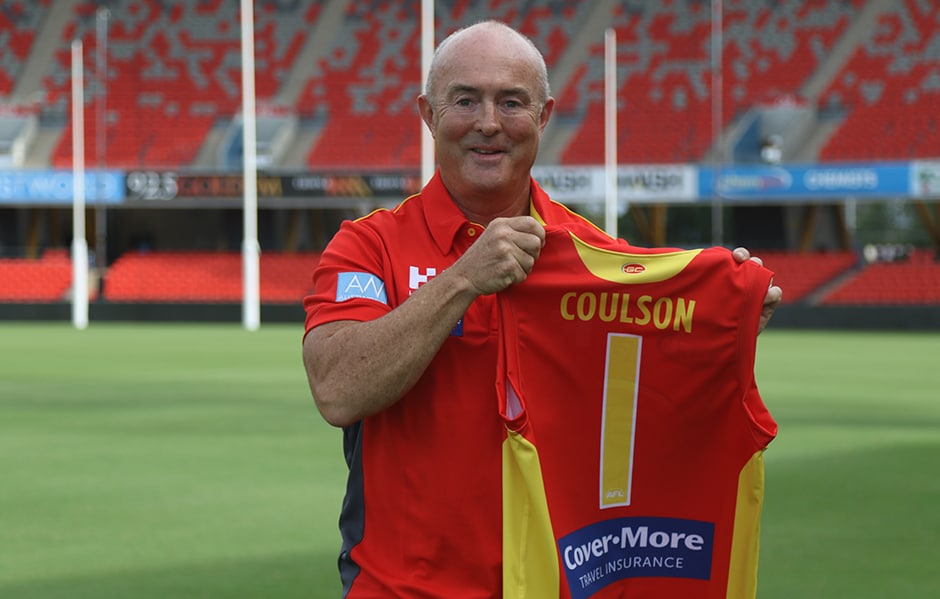 The Gold Coast SUNS today proudly announced Gold Coasters Jill Mathieson and Bruce Coulson as Number One Ticket holders.
Mathieson and Coulson are both foundation members of the football club and supported various elements of the club's business, across our men's, women's, talent academy and community programs.
"It's an exciting day for our club, to be announcing two long-time supporters and proud Gold Coasters in Bruce Coulson and Jill Mathieson as our inaugural number one ticket holders," GC SUNS Chief Executive, Mark Evans said.
"As a club, we're looking forward to Bruce and Jill being ambassadors for our football club and this is appropriate recognition for their ongoing support of the SUNS."
"We know they will be constantly driving awareness and support of the Gold Coast SUNS throughout their own networks to help grow our club."
Although her husband's allegiances may lay with the Carlton Football Club, Jill has been a constant as part of the Gold Coast SUNS matchday at Metricon Stadium and interstate.
"My husband has been involved with the Carlton Football Club for a long time, but when we moved to the Gold Coast and the SUNS received their AFL license, I knew I had no choice but to throw my support behind the local team,' Mathieson said.
"Since that day I have purchased my membership and declared myself a SUNS Supporter.
"I'm very proud of the opportunity and I'm looking forward to assisting the Gold Coast SUNS throughout the club, wherever I can."
Bruce Coulson, founder of Kool Kids Early Education Centres, has been a constant throughout the Gold Coast business community for many and long-term supporter of both the SUNS and AFL in Queensland.
"I've been involved with the SUNS now for close to 10 years, I'm honoured by the opportunity and look forward to doing whatever I can to deepen the club's footprint throughout the community," Coulson said.
"The Gold Coast should be proud of our national sporting teams."
"I've experienced firsthand the work this club does throughout the community, but also how hard they are working on field to be successful, it's a credit to them."
Mathieson and Coulson will join 450 patrons at the club's inaugural SUNS Season Launch at HOTA, Home of the Arts, on Friday night. Guests will hear from Chairman Tony Cochrane, Senior Coach Stuart Dew and members of the club's leadership group, whilst also getting the opportunity to mingle with Gold Coast SUNS players.