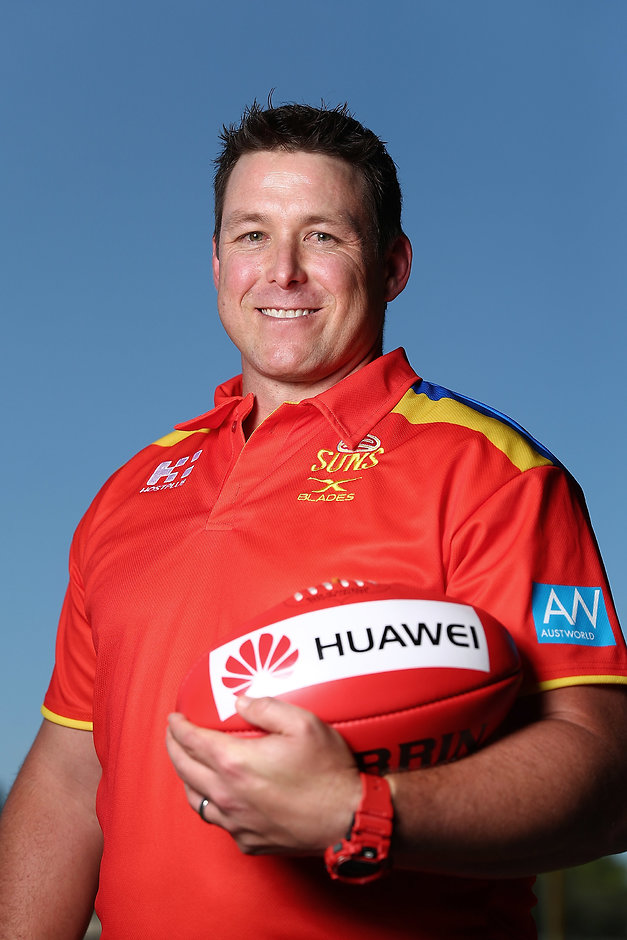 Gold Coast is facing arguably the most difficult travel schedule in AFL history next season, but new coach Stuart Dew is unfazed.
With April's Commonwealth Games putting Metricon Stadium out of action for the first 10 weeks, the SUNS face a brutal schedule that includes games in Cairns, Brisbane (two), Perth (two), Melbourne, Adelaide, Ballarat and Shanghai.
Following a 17th-placed finish last season that resulted in the sacking of Rodney Eade, it's a potentially toxic cocktail for a club still seeking credibility.
A new coach walking into 10 weeks of travel in a market that is still yet to be convinced by the club has the makings of a rough season.
But the new man in charge is taking it in his stride, recently telling the club's website he sees the positives from so many weeks on the road.
"I get to spend a lot of time with the players, which is a bonus for me, and the coaches, so I look forward to that," Dew said.
"It's a challenge, but it's exciting. It's an opportunity and we're going to embrace it."
Eade was widely criticised when he questioned the travel arrangements in the lead-up to last season's game against Port Adelaide in China – a mistake Dew seems keen to not repeat.
The former Port Adelaide and Hawthorn premiership player and long-time Sydney assistant coach is bringing the "anytime, anywhere" attitude that the SUNS have lacked in their seven seasons.
With almost 12 months to prepare for the fallout from the Commonwealth Games schedule, the AFL has looked after its 17th club as best as it could.
Two games in Brisbane are just a one-hour drive up the road, while back-to-back games in Perth in round three and four will cut back on the flights.
And for those hard-core SUNS fans whose patience has been severely tested through their short existence, there are rewards once they return to Metricon.
A first-up game against Gary Ablett's Geelong, and follow-up fixtures against Victorian powerhouses Collingwood, Essendon, Carlton and Richmond is as much as any fan could ask for.
Mark Evans has been in the CEO position for eight months since taking over from Andrew Travis, with a lot of his energy going into this draw.
Gold Coast will profit nicely from selling its home matches to Fremantle and Port Adelaide, money the club can desperately use.
"We have had to be a little creative," Evans said.
"As it stands, for a two-week period during the Commonwealth Games we cannot play in Queensland due to Major Events Legislation - and that's the reasoning behind our home game in Perth.
"We acknowledge this is unique, but with the understanding and support of the football department we will take the challenge on."
The views in this article are those of the author and not necessarily those of the AFL or its clubs