SAM COLLINS was watching a mate play a local representative game last year when he found himself sitting in the stands next to Gold Coast recruiting manager Kall Burns.
It was early in the season, and the pair had had contact the previous year, with the SUNS even considering drafting Collins after he was delisted by Fremantle at the end of 2017 following 14 games with the club.
Collins, who had returned to the VFL to play with Werribee, had started his season in strong form so took his chance with Burns.
"So, are you guys still interested in me?" he asked.
They were. It took some twists and turns, but Collins got there, albeit in an unusual way.

WATCH: Touk's Talk with Sam Collins

Collins was one of three players the Suns recruited at the end of last season as part of the special assistance package given to Gold Coast and Carlton for priority access to state league players.
Collins was the third to be selected, after the club had already signed Josh Corbett, a powerful forward also from Werribee, and South Australian swingman Chris Burgess.
"I've said we're pick one, two and three. The other boys let me know I was last," said Collins, who won a second chance at AFL level.
Each has had a different story since arriving, too.


Corbett was the first to sign on, after a promising start to last season at VFL level before a serious eye injury saw him bed-ridden for three weeks in darkness.
He played only nine games, but it was enough for the SUNS to be sure of his athleticism, footy smarts and goal sense as a medium but marking option.
"It was a strange injury. I was just in my bedroom for the first three weeks staring at the roof. I wasn't allowed outside in case it dilated too much," he said.
"I couldn't watch TV, I couldn't look at my phone. I got a heap of text messages but I couldn't reply to them. The highlight of my day was when my housemates came home from work and I actually got to talk to someone."


View this post on Instagram

The silence would have been a challenge for Corbett, a chatty, exuberant personality who made a mark on the SUNS as soon as he arrived.
The 23-year-old took some time to realise he even had a dream of playing in the AFL, let alone fulfilling it. He played in the VFL in 2017 and at the end of that season was interviewed by Sydney. At that point, it clicked that he was being watched.
"That was when I first thought maybe I could play AFL and make a career out of this. It was more of a driving force after the Swans showed some interest," he said.
"I wanted to exhaust all opportunities rather than five years later think I wish I could've taken that chance and seen what could have come from it.
"It was surreal when they confirmed they'd be taking me. I really wanted to go to the SUNS and then my manager John Meesen sent me a text with a sun emoji."
Corbett has played seven games after a delayed debut, while Burgess has registered eight appearances, including a round one debut.
The versatile tall met with 14 clubs last year, with Gold Coast flagging its interest early, but wasn't sure until late in the piece that he could head straight to the SUNS outside of the national or rookie drafts.
"I didn't know what they counted as a mature-ager, or any of the rules or regulations around it. I sat back and got ready for either way to happen," he said.
"It's a weird circumstance and the AFL probably won't do it until another club is struggling really badly, but it give us three an opportunity we might not have got if the rule wasn't there."
Burgess after the Suns beat the Blues. Picture: AFL Photos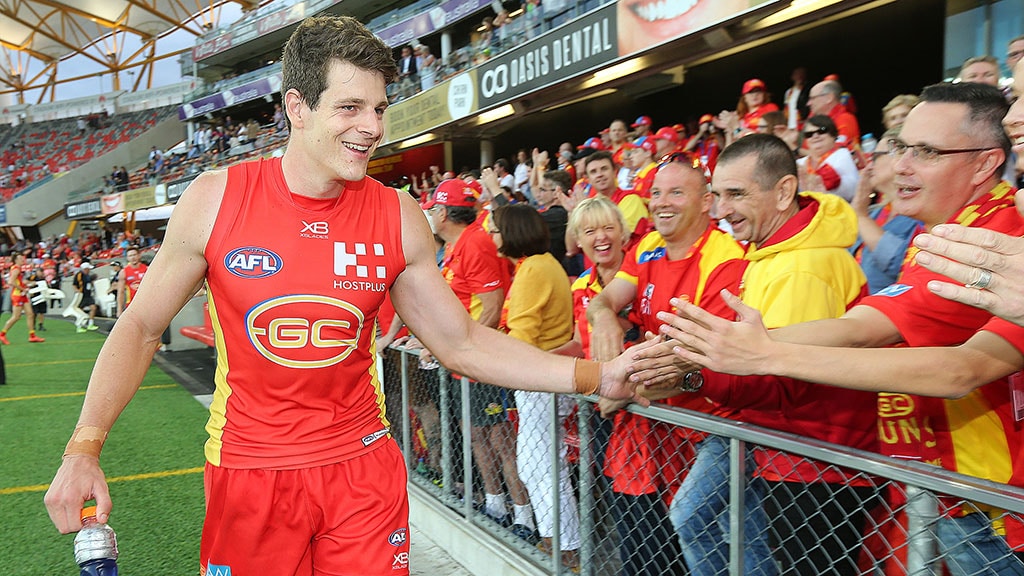 For Collins, currently sidelined with a hip injury, his chance at the SUNS was a fresh opportunity rather than a simple start.
When the SUNS returned from pre-season training, fitness boss Alex Rigby brought up the former Docker in front of the group to discuss his year out of the AFL system, the challenges of combining football and work, and how much he wanted another go at things.
A few months later, Collins took the match-sealing mark for the SUNS deep in defence against Fremantle in round two.
"It was a weight off my chest that one. I was a bit nervous about that game, but I backed myself in late in the game. It was a good win, it was a good mark," Collins said with a laugh. "It was a great mark!" Corbett adds.
Plenty has been made of the SUNS' highly touted teenagers who joined the club last year, but the trio also feel a responsibility to help the club up the ladder.
"At the end of the day it's our job, but it feels funny saying that," he said.
"When things might not go your way if it's injury or maybe in the future selection problems or whatever, I just think about where I've come from and how lucky I am to be in a position at the SUNS now."