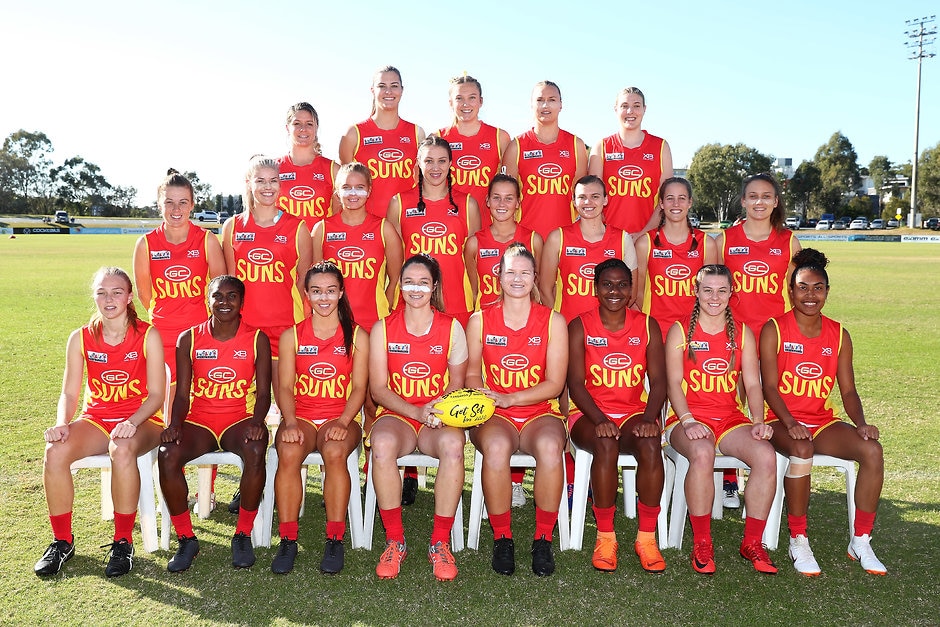 14 Female SUNS Academy members will represent Queensland on the Gold Coast next week for Round 2 of the NAB AFLW Under 18 National Championships.
The squad of 24 was announced earlier in the week with Academy members from the Gold Coast and North Queensland featuring heavily.
SUNS Winter Series representative Georgia Brehmer was named as vice-captain of the side.
She will be joined by fellow Winter Series and femlae Academy members Tori Groves-Little, Ellie Hampson, Dee Heslop, Charlotte Hammans, Madison Goodwin, Kitara Farrar, Taylor Smith, Lauren Bella and Zoe Wood.
Zekeisha Oakley, Georgia Eller, Serene Watson and Tiarna Ahwang round out the remainder of Academy members in the squad.
Queensland's first match will be on Monday July 9 (11am) against Vic Country at Metricon Stadium.
They then take on Vic Metro on Wednesday at Broadbeach followed by the Eastern Allies on Friday at Bond University.
View the full squad below.
| | | | | | | |
| --- | --- | --- | --- | --- | --- | --- |
| Academy | Jumper No. | First Name | Surname | Ht. (cm) | D.O.B. | Club |
| Suns | 1 | Georgia | Brehmer (VC) | 156 | 12/10/00 | Yeronga |
| Lions | 4 | Chloe | Gregory | 160.5 | 3-Oct-01 | Narangba |
| Lions | 5 | Lily | Postlethwaite | 161 | 29-Oct-01 | Moreton Bay |
| Lions | 6 | Zimmie | Farquharson | 173.5 | 27-Apr-02 | Dalby |
| Lions | 7 | Belle | Dawes | 161 | 11-May-01 | Wilston Grange |
| Lions | 8 | Jade | Ellenger | 164 | 4-Mar-00 | Coorparoo |
| Lions | 10 | Jacqueline | Yorston (VC) | 165.4 | 25-Oct-00 | Wilston Grange |
| Suns | 14 | Tori | Groves-Little | 167 | 13/10/00 | Coorparoo |
| Suns | 15 | Zekeisha | Oakley | 167 | 11/8/01 | Rockhampton |
| Suns | 16 | Zoe | Wood | 168 | 17/2/01 | Coolangatta |
| Lions | 17 | Brooke | Randall | 168.5 | 13-Oct-00 | Maroochydore |
| Suns | 18 | Ellie | Hampson | 169 | 8/12/01 | Hermit Park |
| Suns | 19 | Dee | Heslop | 169 | 30/7/01 | Yeronga |
| Lions | 20 | Natalie | Grider (C) | 170.5 | 10-Oct-00 | UQ |
| Suns | 22 | Georgia | Eller | 173 | 18/10/01 | Bond Uni |
| Lions | 23 | Hayley | Moore | 172 | 29-Mar-01 | Coorparoo |
| Suns | 24 | Charlotte | Hammans | 172 | 18/3/01 | Bond Uni |
| Suns | 25 | Madison | Goodwin | 174 | 7/3/00 | Thuringowa |
| Suns | 26 | Serene | Watson | 175 | 3/11/01 | Bond Uni |
| Suns | 27 | Tiarna | Ahwang | 177 | 15/1/01 | North Cairns |
| Suns | 28 | Kitara | Farrar | 177 | 28/3/01 | South Cairns |
| Suns | 32 | Taylor | Smith | 181 | 13/2/00 | Bond Uni |
| Lions | 34 | Jesse | Wardlaw | 184.5 | 13-Jan-00 | Coorparoo |
| Suns | 35 | Lauren | Bella (VC) | 188 | 12/9/00 | Bond Uni |