The Gold Coast SUNS have today taken a significant step in building towards entering the AFLW competition in 2020, signing it's three inaugural players.
Under the list build rules provided to all clubs entering the AFLW competition in 2020, expansion teams were provided the opportunity to sign three players from their Academy region as priority access selections.
In a testament to the pathway the club is providing for junior talent throughout Queensland, the club was able to secure a Gold Coast girl and two talented North Queenslanders from our Women's Academy.
For Gold Coaster Charlotte Hammans, today's announcement was the culmination of a number of years of hard work.
"I got told after training this week and it was super exciting, you couldn't wipe the smile off my face," Hammans said.
"This is a dream come true, I'm really looking forward to the next year and setting myself up to be the best player I can be.

"Hopefully this can inspire younger girls throughout Queensland to keep driving towards playing footy at the highest level."
Charlotte, who grew up on the Gold Coast playing for local clubs Burleigh and Bond University, has been a long-term supporter of the club, with her family all holding Foundation Memberships.
Cairns local Kitara Whap-Farrar has been a member of the club's Academy since its inception and couldn't hold back her excitement.
"It's an amazing feeling, just to know that you make history, as one of the first girls to ever be signed onto an AFLW list for the SUNS is pretty amazing," said Whap-Farrar.
"I was pretty nervous, I didn't know whether I was going to be picked or not, and as soon as I was told I was just in awe, the happiest and best day of my life is how I'd explain it."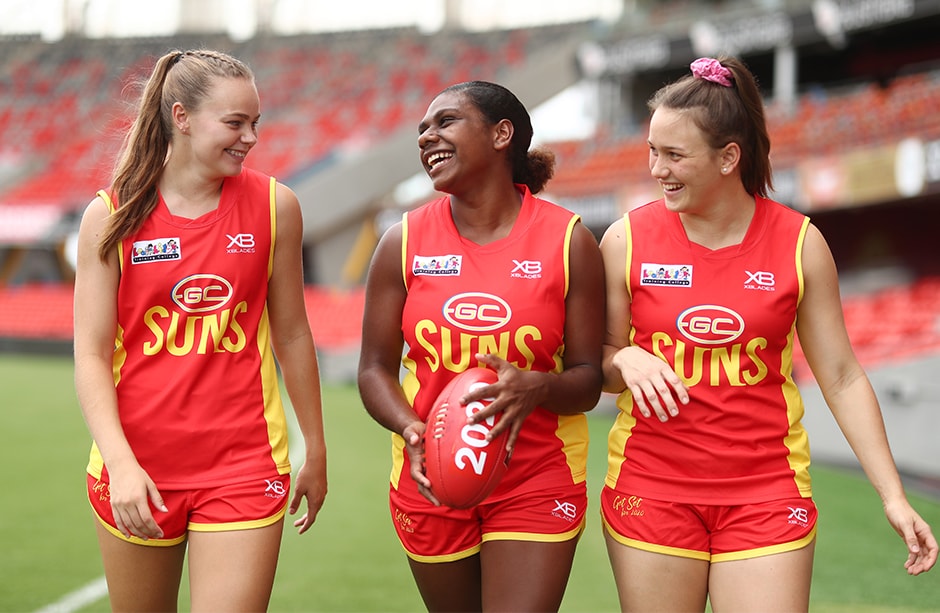 National Academy member Ellie Hampson, who was unveiled on her eighteenth birthday, flew down from Townsville for the announcement.
"It's probably the best birthday present I'll ever have – I don't think anybody will be able to top that," said Hampson.
"It's very overwhelming being told, Fi [Fiona McLarty] asked to give me a call and I was there with my step-dad.
"It was crazy, I wasn't expecting it at all. There was a lot of emotions, tears of excitement and so much joy."
"This means everything to me – it's career changing."

Gold Coast SUNS Head of Women's Football, Fiona McLarty, was quick to recognise the magnitude of the occasion.
"Today is a momentous day for not only the club, but these three outstanding young women, as we take another step in our journey towards 2020," McLarty said.
"As all three are part of our SUNS Academy we've been able to follow their progression over the last couple of years and today marks the end of a professional but exciting process.
"We're extremely excited to have all three women join the club. They have all shown commitment to our Academy Program and a thirst to help drive towards our inaugural AFLW team."
All three girls are part of the NAB Women's National Academy and will train over the coming months with the club, before prioritising State and National commitments during the year.
Player Profiles
Charlotte Hammans
Height: 172cm
Local Club: Bond University (QAFLW)
Hammans is a crafty medium/tall forward with good goal-sense and awareness. Playing for Queensland in the 2018 National Championships, Hammans was the team's leading goal-kicker booting four goals in five games. She presents well to the football, makes strong leads and uses her bodywork to take marks. In her 10 matches for Bond University in the QAFLW, Hammans kicked 12 goals to finish eighth in the league goal-kicking tally. Hammans also played in the State of Origin match for the All Stars after being included in the Under 18 All-Australian squad.

Ellie Hampson
Height: 171cm
Local Club: Hermit Park Tigers (Townsville)
Hampson possesses elite agility allowing her to evade potential tacklers with ease. She is a strong and fierce competitor who also has an accurate kick, often allowing her to rebound off half-back. She is no stranger to second and third efforts and often earns praise from coaches for her work ethic in games. Hampson played nine matches for her local Townsville club Hermit Park in 2018, kicking six goals and being named in the best on four occasions. A Winter Series player and regular Queensland Under 18 representative, Hampson was also named in the 2019 AFL Women's Academy.

Kitara Whap-Farrar
Height: 177cm
Local Club: South Cairns Cutters (Cairns)
Farrar is an explosive defender who typically looks to run and carry. She is a fantastic kick of the football and can easily use her speed to get away from stoppages and drive the ball forward. Farrar played 12 games for South Cairns in the AFL Cairns Women's league, taking out the Jo Butland Medal for league Best & Fairest for the second year running. She played in the Gold Coast SUNS Winter Series team and has been a member of the Queensland Under 18 representative side over the last two years and was named in the All Australian squad on both occasions.