Alice is nine years old and a foundation member of the GC SUNS.
And like many Gold Coast fans, her favourite players are key forward Tom Lynch and skipper Gary Ablett.
On Tuesday morning at SUNS headquarters, Alice was surprised by Ablett and Lynch after being brought into the club as a finalist in a competition ran over the 2015 Australia Post AFL Community Camp.
The star duo and club mascot Sunny Ray were on hand to tell Alice she was the winner of the competition and the delight was evident on the youngster's face as she got up close and personal with her heroes.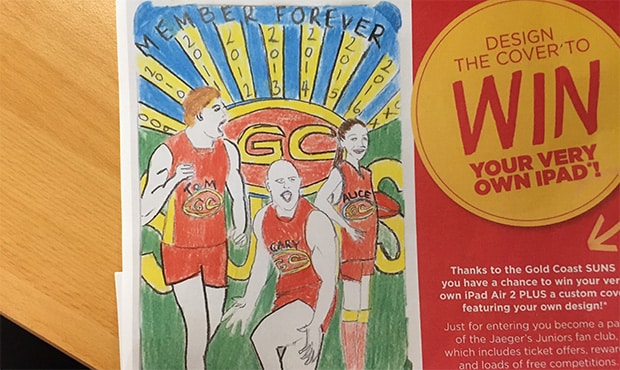 Alice's winning competition entry

"She was very surprised, had a big smile on her face," Ablett told SUNS TV after meeting Alice.
"But that's what it's about.
"It's great that we can give back, put a smile on people's faces. A very cool prize as well, an iPad, so it was good to be able to come out here.
"She'll get to go to school now and show the kids her iPad for show and tell. I thought it was a really cool competition and it was great to be a part of it."
Alice later told her mum that the best part of the morning wasn't getting the iPad, it was getting a cuddle from her number one player, Tom Lynch.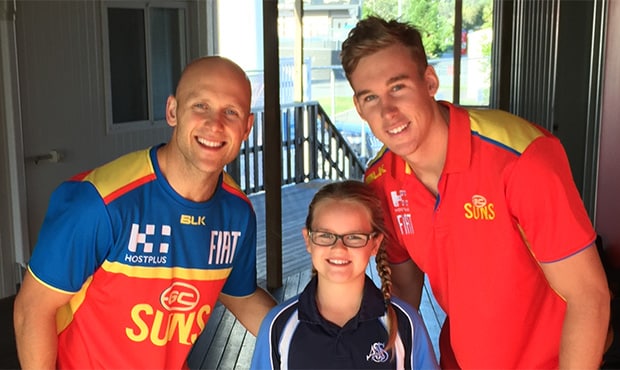 Nine-year-old Alice and her heroes Gary Ablett and Tom Lynch

Over the month of February, the SUNS received hundreds of entries in a competition that asked children to design their own iPad cover with the winner receiving their very own iPad Air 2 complete with custom cover.