The Christmas break has come and gone, while the summer slog is almost over. The 2015 season is drawing closer by the day, and for recent GC SUNS draftee Touk Miller, the honeymoon period is definitely now over.

Part one of the dream was achieved on a Thursday night late last November when his name was read out at pick No. 29 – the third and final selection by the SUNS' recruiting staff at the National Draft – but, that is only part of the dream. Miller knows that games aren't handed out on a silver platter; he will have to earn a spot.

For a kid from Melbourne's inner-western suburbs, Miller's exposure to Queensland's brutal heat and humidity was limited before arriving at Metricon Stadium. He has had plenty of challenges thrown his way in his short stay so far on the Glitter Strip, but none tougher than the unforgiving training climate. Few people from south of the Sunshine State's border revel immediately in the sweltering summer days routinely dished up here, let alone footballers used to ploughing through a wet and windy Melbourne winter.

Miller captained the Calder Cannons and Vic Metro in 2014, two of the most coveted leadership positions in Victorian underage football. His ability to absorb information and follow instructions has allowed him to produce a strong debut summer in Carrara and has given him every chance of playing senior football this season, potentially quite early in the season.

More than three months into his tenure on the Gold Coast, Miller is finally getting his head around the reality that this is now his life. His friends, his family, his old life are all just a short plane trip away, but, they are all in another state. After wanting it for so long, he is now in the AFL system. Now, he has his eyes firmly set on earning a spot in Rodney Eade's 22.


"It's sort of hard to say when someone asks you: 'What do you do with yourself now?' And you're like '(I'm) a professional athlete or an AFL player'. It's a bit weird but I'm getting used to it," Miller explained to SUNS TV.

"I reckon now that it's post-Christmas, it's getting down to the pointy end of the pre-season where you're trying to get your spot in the team. But, I'm getting there.

"Probably the biggest challenge for me is the heat, for a starter. (And) just settling into the club and making sure I know all the resources I can use and who I can feed off.

"The step up in training is actually pretty large, especially compared to TAC Cup. The fact that you're training here four, five times a week and your big sessions you're clocking up to 10km-plus, which is a lot more than what I'm used to. The intensity is a lot higher which has shown in the results as well which is pretty good."

Unlike the majority of draftees, Miller was afforded the luxury of spending the final year of his underage career without the burden of schoolwork. The teenager finished his education at the end of 2013 at the prestigious St Kevin's College, allowing him to dedicated his draft year to playing with TAC Cup football factory, the Calder Cannons, as well as leading his state in the National Championships.


The tenacious midfielder admits uprooting his life and moving away from everything he's ever known has been a bigger challenge than he expected, but something he has learned to deal with. Miller speaks with maturity beyond his youth; he knows this change isn't easy, but the prize is more than worth it.

"The change in environment has been pretty big, a bit bigger than I thought at the start," he said.

"Moving up form Melbourne, obviously climate was a big one, but away from your friends where you spend probably day-in, day-out with them, now that you're not at school (is difficult).

"It's a bit different, I'm slowly getting used to it, but it will take a bit of time."

When Miller first arrived on the Gold Coast after being added to the SUNS list, the club ushered him into the home of Matt Shaw. With the pair sharing a love for surfing, they formed a bond quickly, something that has helped the young Victorian transition smoothly.

Aside from the long-haired Shaw, SUNS vice-captain and reigning best and fairest recipient, David Swallow, has also been instrumental in guiding Miller during the formative stages of his career. Small, seemingly insignificant things have been helpful to ensure Miller dots his Is and crosses his Ts before, during and after each session at the club.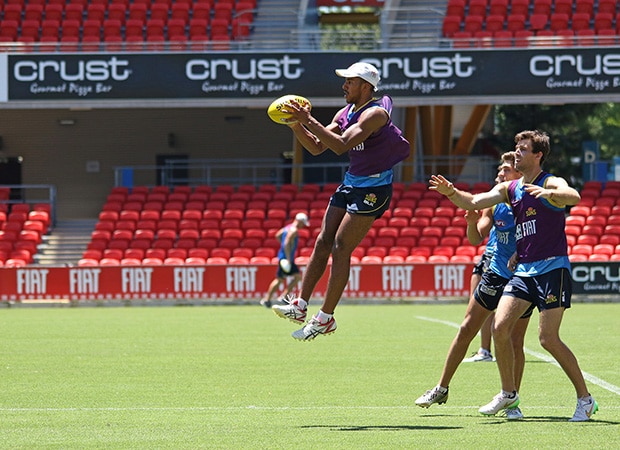 You get the sense just speaking to Miller that he has a burning desire to get the most out of his football, and with more than an ample amount of ultra-professionals at the SUNS, he won't have to look far for assistance with professionalism. New assistant coach Matthew Lappin has also left a strong mark on Miller during his infancy.

"A player that's had a big impact would be 'Shawy' [Matt Shaw] and 'Spitter' [David Swallow]," Miller said.

"I think at the start, because I was in the midfield group a lot, I used them as a benchmark in terms of the way they went about their training, their preparation, things they're doing before and during training.

"Probably a coach that's influenced me the most would be 'Skinny' [Lappin]. He's my DOC (Duty of Care) coach, he sort of brings me, he looks after me and goes through different structures and team aspects I need to still be hitting."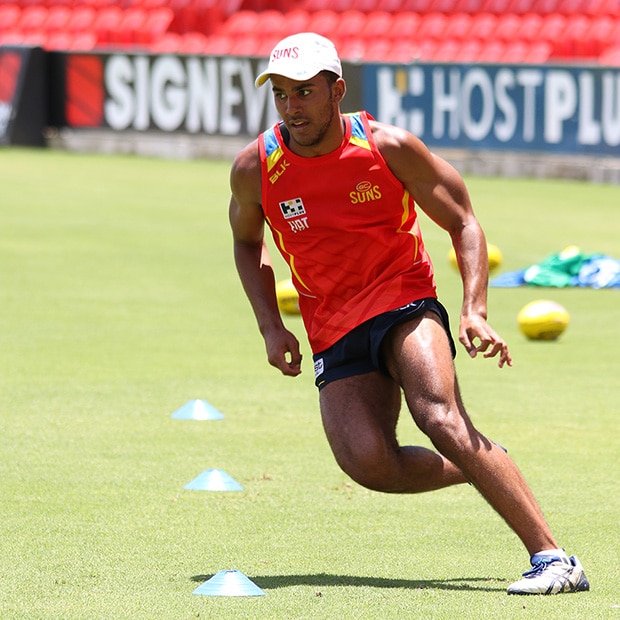 Miller, along with fellow draftees Peter Wright and Jarrod Garlett, have settled with host family veterans Mark and Maryanne Cherry in their Ashmore residence. The trio is the latest crop to live with the couple who have opened their home up to a large list of names since the club's inception.
READ: The Wright man for the job and Garlett's path to the big time

As an avid surfer, landing on the Gold Coast has put Miller in a fortunate position. The Victorian likes to get out in the water as often as his schedule allows, using the surf at Palm Beach and Burleigh Heads as an escape from the consuming world of an AFL footballer.

With the pre-season campaign on the back nine, the ferocity of training has noticeably lifted in recent weeks. Attention has begun to shift away from time-trial results and a heightened emphasis on conditioning. The focus is rapidly turning to games, with the NAB Challenge already on the horizon.

The wider the gap broadens between draft night and time spent at the football club; Miller knows that his future is in his own hands. The SUNS have given him the opportunity to ply his trade in southern Queensland, but they won't be handing games out. But, if his application to training is anything to go by, the endurance specialist is already putting the heat on the coaching staff to give him an opportunity, sooner rather than later.