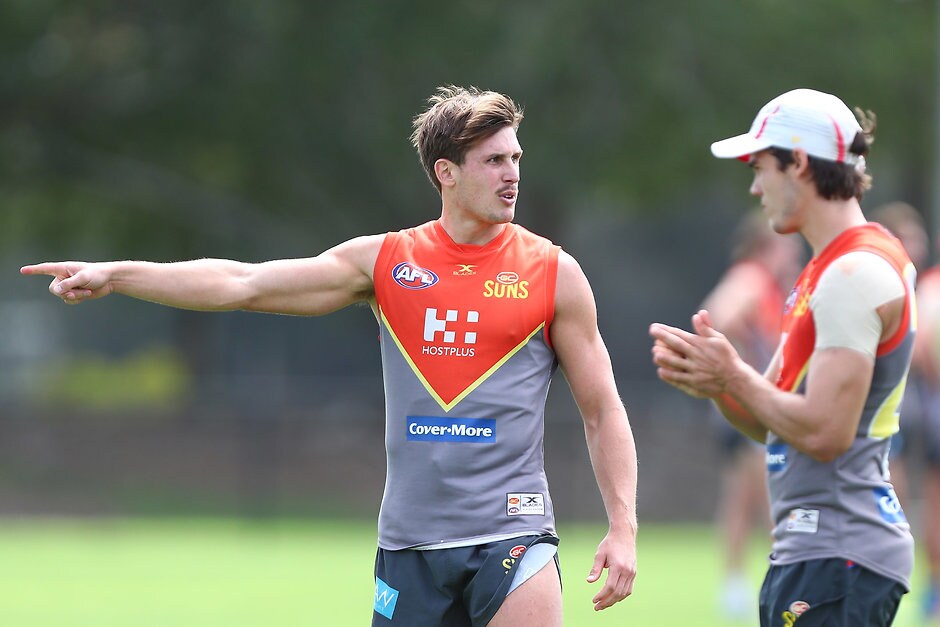 He's so ballistic, when he runs past you he's at a full head of steam so we'll look to use him in there (midfield) but also forward
Coach Stuart Dew
After welcoming his first child into the world less than two weeks ago, David Swallow has already switched back into footy mode.
The SUNS' midfielder had a few days off to care for mum and bub while the team travelled to Townsville and will play in the JLT2 clash against Brisbane in Southport after being named in the final squad.

READ: JLT2 Squad: May, Swallow return for final pre-season game

Going into his eighth season with the club, Swallow will take on a bigger role in the midfield this year and senior coach Stuart Dew sees the 25-year-old handling some extra responsibility as a leader.
"He's one of them in there (a leader) and he's powerful, certainly having seen him from afar I've got a new appreciation for him up front," Dew told the media on Thursday.
"He's so ballistic, when he runs past you he's at a full head of steam so we'll look to use him in there (midfield) but also forward."
Swallow has played predominately in the midfield throughout his career, but also managed to kick 11 goals in his 18 games last year.
"I think he can find a goal as a mid, I'd like to have a look at him sometimes around deep forward as well," Dew said.
"It's a long year for anyone with 22 games through the midfield so as best we can hopefully we can get a bit of flexibility through there."
Sunday's match will be Dew's last chance to see the side in a game scenario before the season opener in Cairns on March 24, and he's said there's one thing in particular he expects.
"Just consistency, I thought in terms of what we went out to do to get the game (JLT1) on our terms and see good habits, I thought we did that."
"(We're) just looking for some repetition and not to sit back and be happy with a JLT1 win so we're certainly looking just for good habits, good behaviours out on the ground and unselfishness within the team."