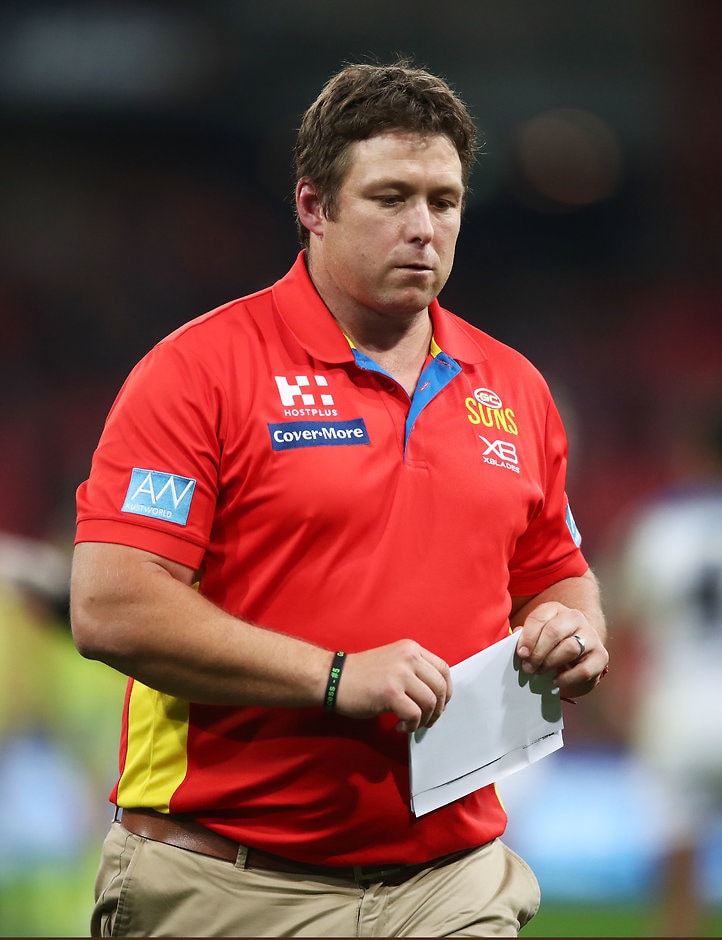 STUART Dew has questioned his team's desire to win, saying Gold Coast "mentally and physically froze" in a fourth-quarter meltdown against St Kilda on Saturday night.
The Suns led by 31 points at the final change but went scoreless in the last term and lost by two points.
Dew said the Suns delivered exactly what he asked for three quarters, but as soon Josh Battle kicked St Kilda's opening goal in the final quarter, they shut up shop.
"(We) physically and mentally froze," he said.
"That's the disappointing thing and that's what makes it so frustrating as a footy club.
"To see our response in the first three quarters, all we had to do was keep doing what we were doing, and we went away from it.
"We're looking for guys that can influence in that time of the game, and we lacked them."
Dew opened up in his post-match press conference, saying he had one simple question for his playing group after the match: "why didn't we want to win the game?"
"We actually asked questions around why did we go away from what worked in our defensive shape, our ball movement.
"I thought we got opened up and then also played really safe with the ball.
"Structurally there's some things we can do better throughout the whole game.
"Why didn't we want to win the game? We did so well in the first three quarters and proud of their effort to be at that point but that's what makes it harder to swallow because of the last quarter."
Dew said the loss would sit in his guts.
St Kilda destroyed Gold Coast around the clearances, 53-22, and the Suns' coach said his team lacked leaders in that part of the ground to take control in the fourth quarter.
St Kilda won 20 clearances in the final term alone, ensuring they had a 19-5 inside 50 advantage that led to a tidal wave of chances.
Dew said fitness was not a problem for his team that had now scored just two behinds in its past four final quarters.
"We talked about leaving it all out there … then you just have to find something," he said.
"As AFL players, you just find something. You might play 22 minutes, just dig in and influence others and show leadership and make crucial decisions.
"That's our gap, that's what we need to learn.
"We can't keep getting into a position where one goal turns into four or five.
"That's what we're chasing, the improvement on that. We only had to pull it up by one and we win the game.
"St Kilda get to sing the song though, that's the thing that burns."
The views in this article are those of the author and not necessarily those of the AFL or its clubs