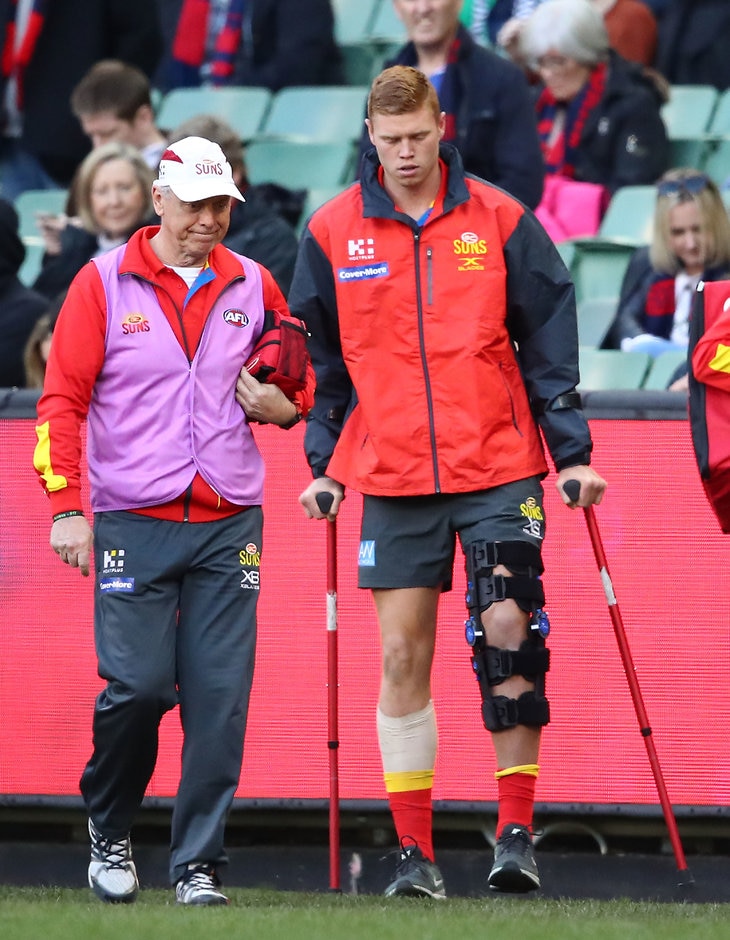 Peter Wright will miss the rest of the 2018 season after sustaining a high-level medial ligament injury to his knee.
Wright joined the casualty ward early in Sunday's match, flying for a mark in the opening minutes of the first quarter and landing awkwardly after the marking contest.
He took his set shot for goal, then left the ground and did not return.
"Scans have revealed that Pete will miss the remainder of the year with this (injury)," Gold Coast's Rehabilitation Manager Alex Rigby told the Alpha Sport Injury Update.
"He will undergo a comprehensive rehab program and be ready for day one of pre-season."
Sean Lemmens was also hindered by his recently-healed hand which he fractured in a NEAFL practice match earlier this year.
Rigby said Lemmens had not seriously re-injured his hand and would be closely monitored during the week.
"In good news for Sean scans have revealed there's no fracture there," he said.
"He'll be immobilised and modified through the back end of this week and we'll assess his availability following training tomorrow."
David Swallow will be available for selection this week should he pass all concussion protocols and complete the team's main training session.
"He trained strongly earlier this week and will train with the group tomorrow with a view to be available over the weekend," Rigby said.
Brayden Crossley looms as a likely replacement for Peter Wright this week after fully recovering from his fractured cheekbone.
"Brayden Crossley has undergone his progressions from his facial fracture two weeks ago and has trained strongly as well early this week," Rigby said.
"(He) will also be available for selection on the weekend."
After a one-game absence Rory Thompson is another SUN set to return.
"Rory Thompson sustained some hamstring tightness towards the back end of last week," Rigby said.
"We decided to take a conservative approach with Rory and he's gone through his rehab progressions well and has been running well earlier this week.
"He'll aim to train with the group tomorrow and also be available for selection for Round 21."