On Wednesday the Gold Coast SUNS launched their inaugural Reconciliation Action Plan (RAP) at North Burleigh in front of players, coaches, staff, board members, media and local Indigenous people.
The location was chosen specifically for its cultural significance with the local Yugambeh people of the Gold Coast area.
The club has been developing the RAP document since January 2017, however, many of the initiatives detailed in the final plan have underpinned the club's cultural programs since its inception.
Chief Executive, Mark Evans, told media it was a proud day for the club.
"Today we're here to take a leadership position, to tell the world that there is still work to be done," he said.
"Our club's only seven years young and we already have deep connections to the local Indigenous community and some terrific programs.

"I'm delighted that we have the only AFL captain of Indigenous background in Steven May.
"And at this point in time the only Indigenous Board representative in Sam Riley.
"[Plus] some wonderful people and connections in the community who have already helped shape the club to be what it is today, we're really proud of that.
Captain Steven May echoed Evans and said to be in a leadership position to influence chance was something he held dear.
"If I can impact just one person I'll be very proud of that," he said.
"To be leading the way with some of the best AFL club's in this space [RAP] is sensational."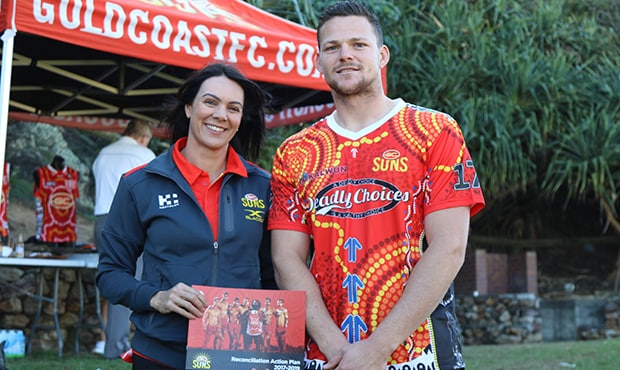 Board Member Sam Riley and captain Steven May


The SUNS' RAP provides a framework that will allow the Gold Coast SUNS to be a catalyst for social change and will focus on advancing the spirit of reconciliation through practical plans of action driven by three core areas.
Relationships
The SUNS have developed strong partnerships with Aboriginal and Torres Strait Islander people and businesses to continue its goal of achieving a high performing workforce that demonstrates care, equity and continual learnings.
The RAP will assist the club to build further cultural connections and ensure our club has the best chance to demonstrate our commitment, fostering the growth of Aboriginal and Torres Strait Islander talent within our business.
Already the club have engaged Luther Cora, a local Yugambeh man, and our partnership with Deadly Choices, an Indigenous health program, as examples of the strong relationships built.

Respect
The Club has truly embraced the spirit of reconciliation and recognise the unique status of Aboriginal and Torres Strait Islander peoples as the First Australians. The club will work in partnership with Aboriginal and Torres Strait Islander people to ensure their traditional lands and waters, their unique history, diverse culture and customs are treasured by all.
This is evident with the Welcome to Country performed at each home match and a readily available document explaining acknowledgement and welcome to country protocols.


Opportunities
Providing beneficial community and business outcomes for Indigenous and non-Indigenous Australians is a priority pf the Club. We have seen positive outcomes in 2017 already through the inclusion of Sam Riley on the Board of Directors (currently the only indigenous AFL club Board Member) Kalinda Howarth (Community Trainee) and Eddie Sansbury (Indigenous Liaison Officer.)


Click here to download the SUNS' Reconciliation Action Plan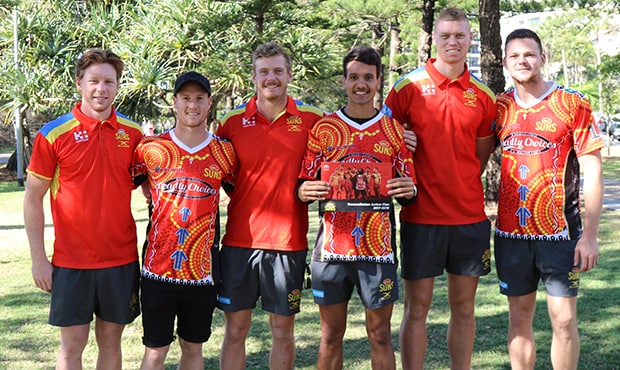 SUNS players present the RAP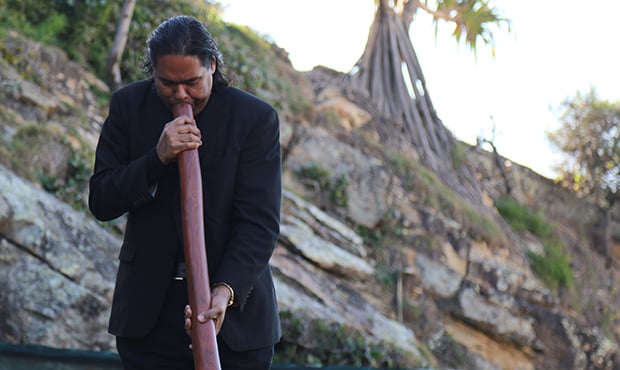 William Barton plays the didgeridoo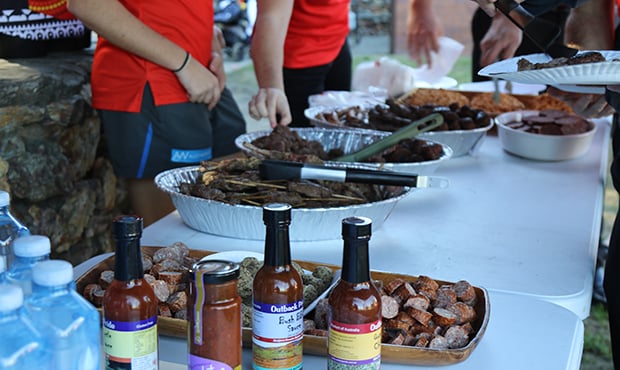 Guests tried traditional bush tucker as part of the launch