Thursday marked another small step forward for Gold Coast SUNS midfielder Jaeger O'Meara as he continues to progress with his rehabilitation from a ruptured patella tendon suffered over 13 months ago.
While the rehab group did stationery drills on the boundary line, O'Meara successfully completed the warm-up with the main group before participating in their first two drills.
By his own admission the West Australian's touch was slightly off, but the way he moved around the Metricon Stadium deck was a joy to watch for his teammates and coaches alike.
Speaking to SUNS TV immediately after training, a beaming O'Meara revealed he thoroughly enjoyed being back amongst the main group.
"I got to train with the main group for the first time in probably about 13 months today so can't wipe the smile off my face," O'Meara said.
"It was good just to get around the boys and just be a footy player again. It was really fun.
"In the grand scheme of things it's a really small step but for me, I haven't been able to train with the main group for a long time and even though I've got the orange hat on so no-one can touch me out there, it was still good just to be around the boys and have that camaraderie."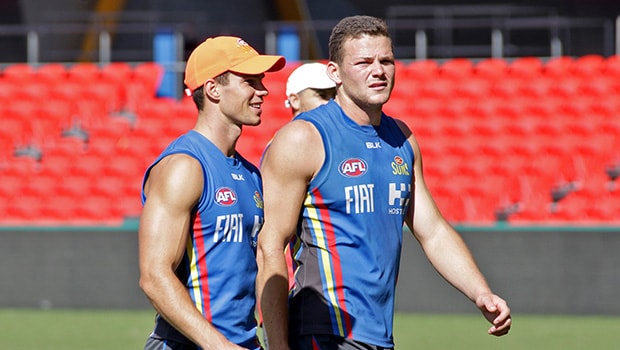 Jaeger O'Meara is all smiles after Thursday morning's training session (photo: SUNS Media)

There is still a lot of work to do before the 2013 Ron Evans medallist steps onto a footy field again at either AFL or NEAFL level, with Rehab Manager Alex Rigby and Physiotherapist Lindsay Bull keeping a watchful eye on his progress.
"The next phase of my rehab will include a lot of agility stuff, some jumping and that kind of thing and I'll start to incorporate a lot more skills," he said.
"I'll drip feed into the main group a little bit like I did today and then just progressively do more and more and hopefully get myself right to play in the coming weeks."